While many people today might opt for a sleek and smooth hairstyle, others might want to add more personality by rocking braids. For those who really want their braided hairstyles to pop, you'll be thrilled to know that braids can be done in any color–including blue! Blue braids are vibrant and suitable for ladies that like dramatic hues and making heads turn. All eyes will be on you and your sapphire locks as you glide through a crowd.
Blue-colored braids are available in a myriad of different shades which you can pick from. Anything from an icy silvery-blue to a mystifying midnight blue can be used to stunning effect. If you're looking for a fun and unique hairstyle, take a look at these 19 blue braids hairstyles. From simple styles to more intricate designs, there is sure to be a style that you'll love.
1. Blue Box Braids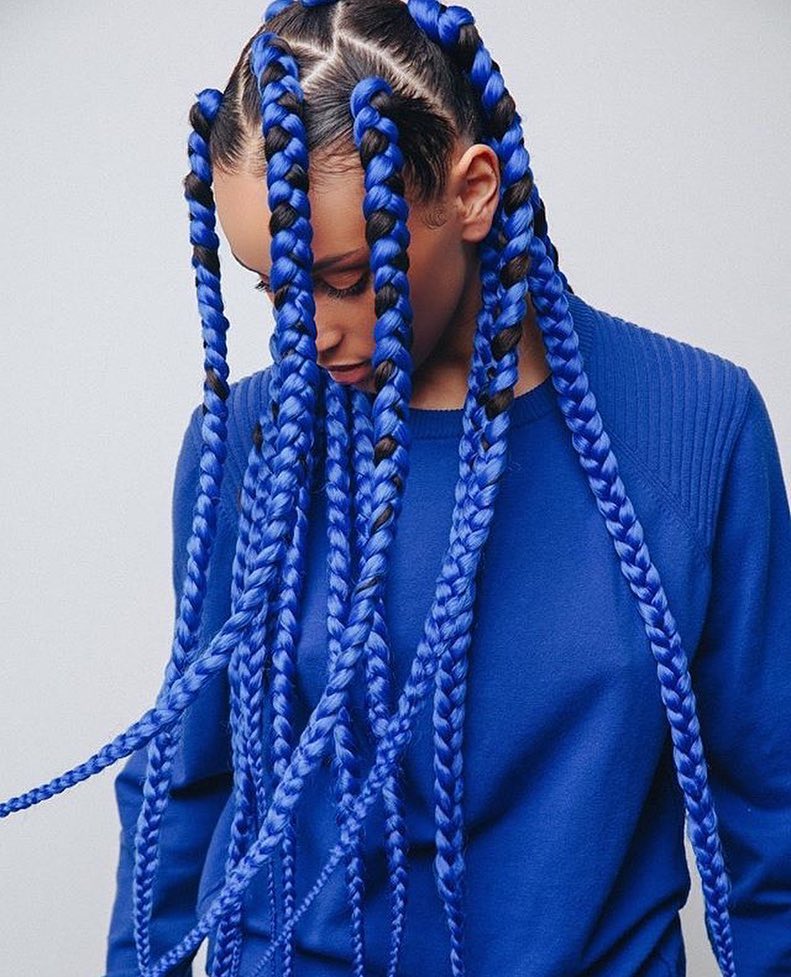 Blue box braids are made using blue synthetic hair. The hair is braided from the root using the synthetic hair which forms the knot that secures it to the scalp. Blue box braids, like your usual box braids, can be made in small, medium and jumbo sizes depending on how big you section the hair into parts, or boxes.
2. Blue and Black Box Braids
Blue and black box braids require that the hair be braided using both blue- and black-colored synthetic hair. Though the braids themselves should remain uniform, both the two colors should be visible and distinguishable in order to gain the desired effect. The blue braids and the black braids can be mixed together throughout or coordinated into sections (for example, the left half of the head with blue braids and the right half with black braids).
3. Blue Knotless Braids
Blue knotless braids are similar to the blue box braids, just without the knots. The large knots in box braids cause some wearers pain and put tension on the scalp. Blue knotless braids are better for people with a tender scalp and last a long time, but they take several hours to complete.
4. Ombré Blue Braids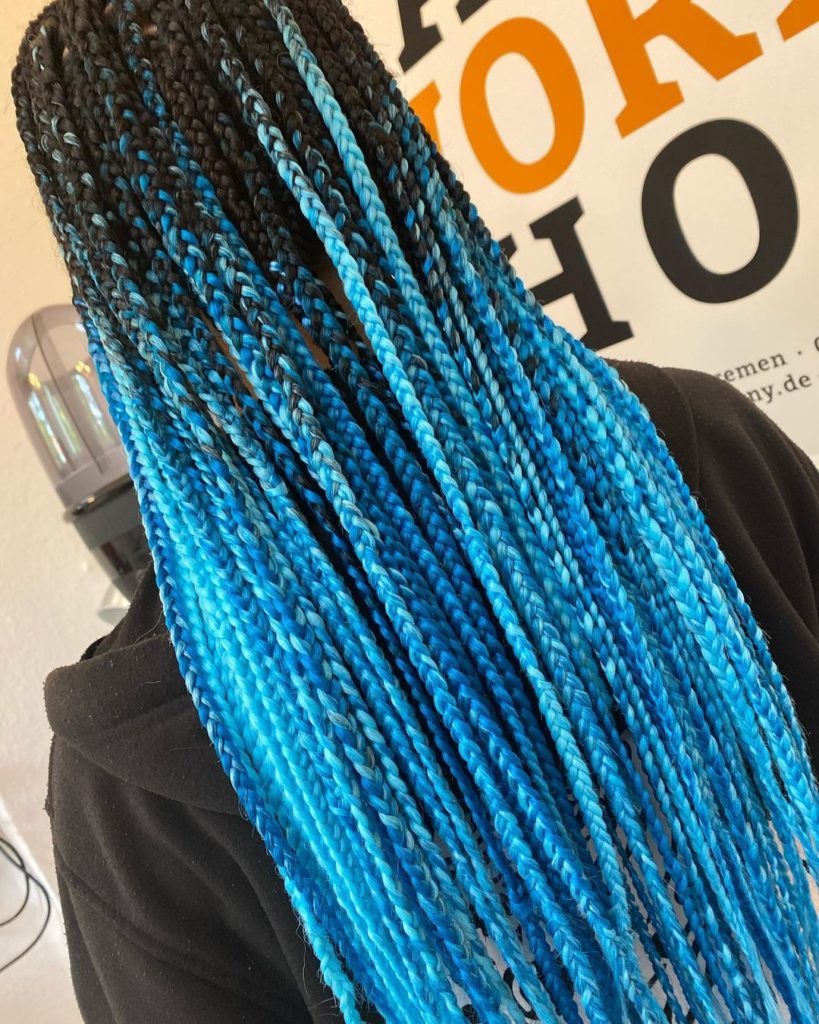 Ombré blue braids is a style that features blue as one of the colors in transition. Blue ombré braids can be made using blue and one or more other colors. The idea is to create a gradient of colors by making the top hue (the color closer to the roots) gradually melt into the hue below it (the color closer to the ends). Ombré-colored hair extensions are available in a variety of ombré colors and shades.
5. Long Blue Box Braids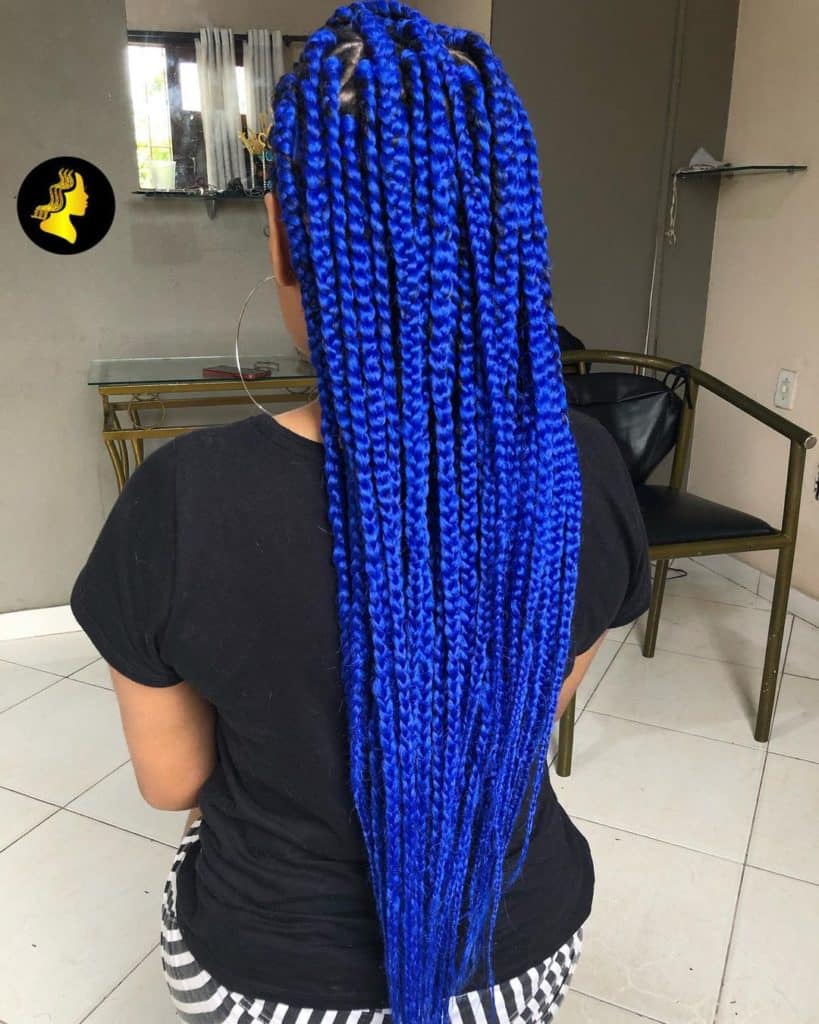 Long blue box braids are perfect for long-hair fanatics, though the length of the braids makes it so that they take longer to finish. However, their length also creates a wide range of braid-styling options!
6. Purple and Blue Braids
Purple is a color made from a mixture of blue and red, which makes it a color that naturally pairs nicely with blue for braids. Purple and blue braids can be made into different styles and sizes. No matter how you choose to style it, this radiant color combination is sure to get people's attention.
7. Blue Lemonade Braids
Blue "Lemonade braids", or side braids, can be made by using any shade of blue braiding hair to braid all the hair to one side of the head. Blue Lemonade braids can incorporate different designs and patterns, and can also be adorned with accessories like beads or hair clips.
8. Light Blue Box Braids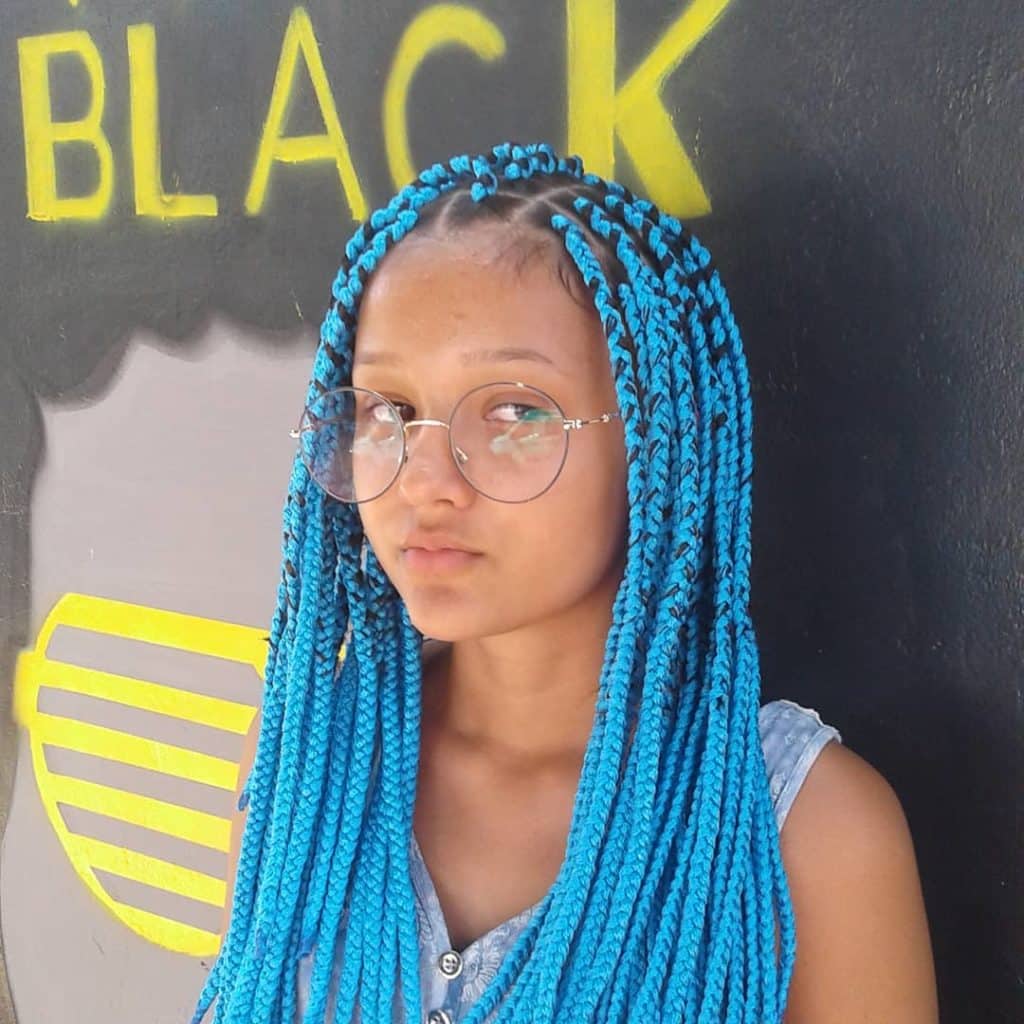 If you want your blue box braids to really pop, go for the light blue box braids. Reminiscent of water, light blue box braids give a soft and calm vibe to the wearer.
9. Blue and Black Knotless Braids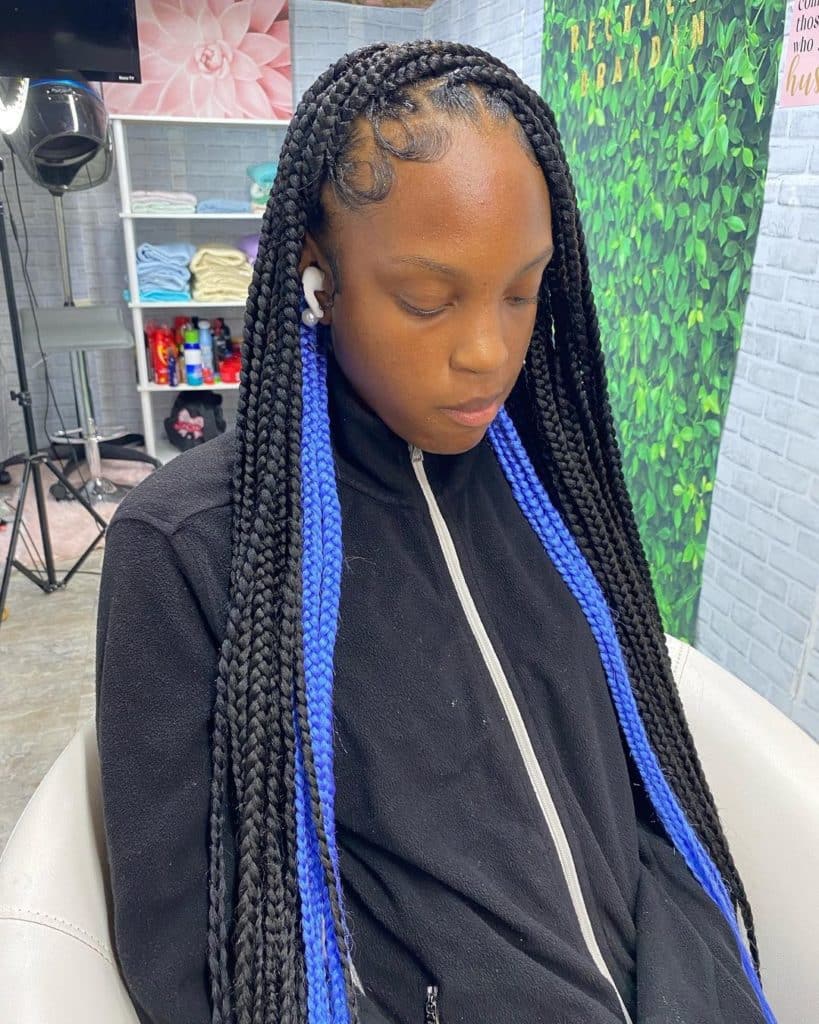 You can add some spice to your knotless braids by having some of the individual braids blue and the others black, or using the blue braiding hair and the black braiding hair in separate sections. Blue and black braids can be done to where only a few braids at the back are blue, each side of the head is either blue or black, or so there's an irregular mixture of blue and black.
10. Dark Blue Braids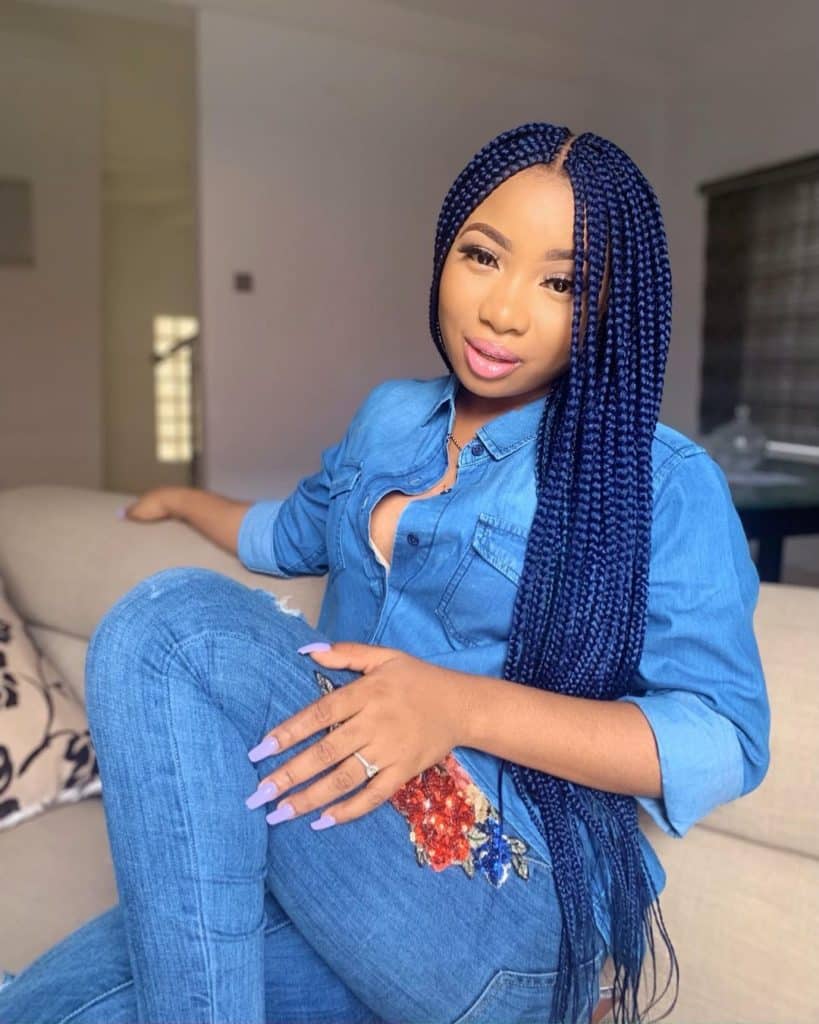 Dark blue braids are suitable for ladies that do not want their blue braids too bright or drawing too much attention—possibly young professionals or businesswomen. Dark blue braids can be pulled off in navy blue, or in midnight blue which is closer to black.
11. Long Blue Braids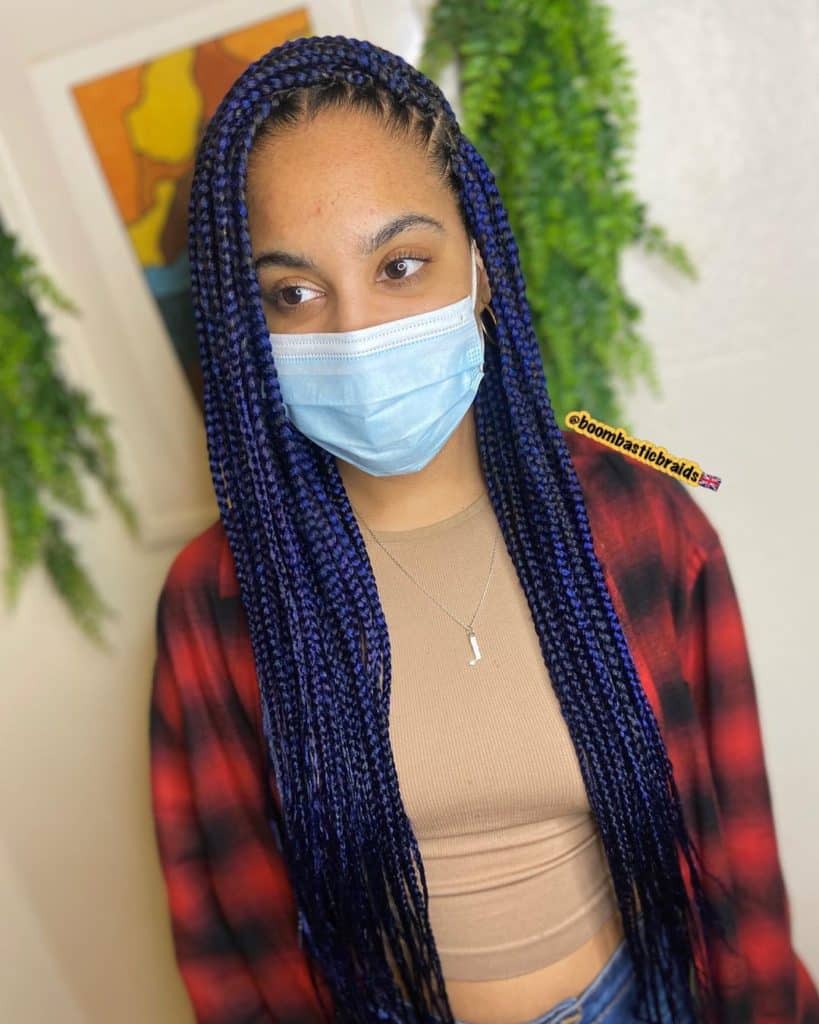 Your blue braids of all sizes and styles can be made in long lengths for long-hair lovers. Long blue braids take a longer time to make and will require more braiding hair because of the length of the braids.
12. Blue Goddess Braids
Blue goddess braids are made using blue extensions to braid the hair while also having blue curly leave-outs (or strands of hair that you "leave out" of the braid). Blue goddess braids, like normal goddess braids, require more maintenance because of the curly leave-outs that must be kept from getting frizzy and tangled.
13. Blue Feed-In Braids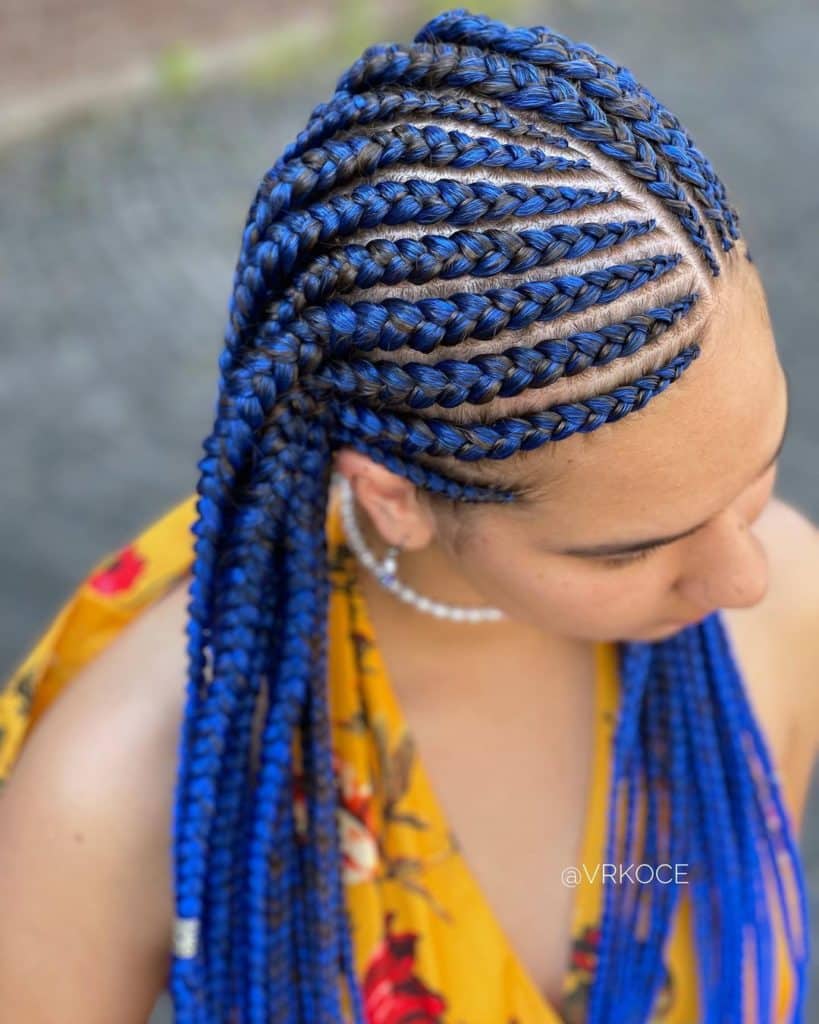 Blue feed-in braids are cornrow braids that look incredibly neat and natural—as if there is no braiding hair added. Blue feed-in braids are achieved by adding the blue synthetic hair underneath the braids instead of over them. Feed-in braids are the choice of most ladies because of their seamless and sleek look.
14. Blue Box Braids on Dark Skin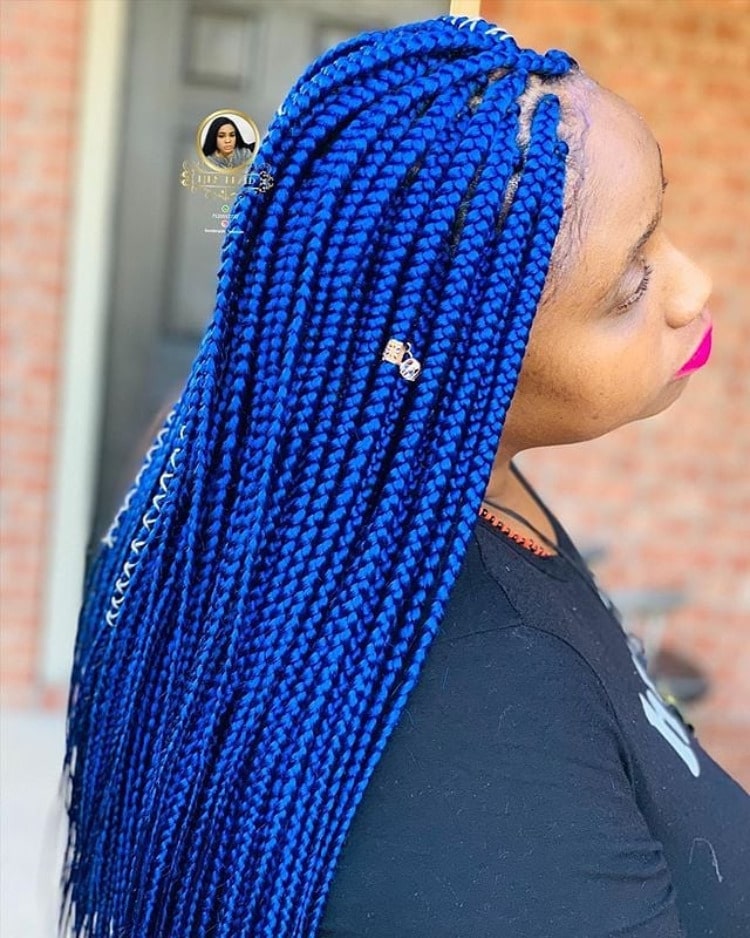 If you are dark-skinned, blue-colored box braids are box braids you can rock with the assurance that they will look great against your skin. Dark blue box braids compliment darker skin tones better than light blue ones.
15. Blue Braids Wig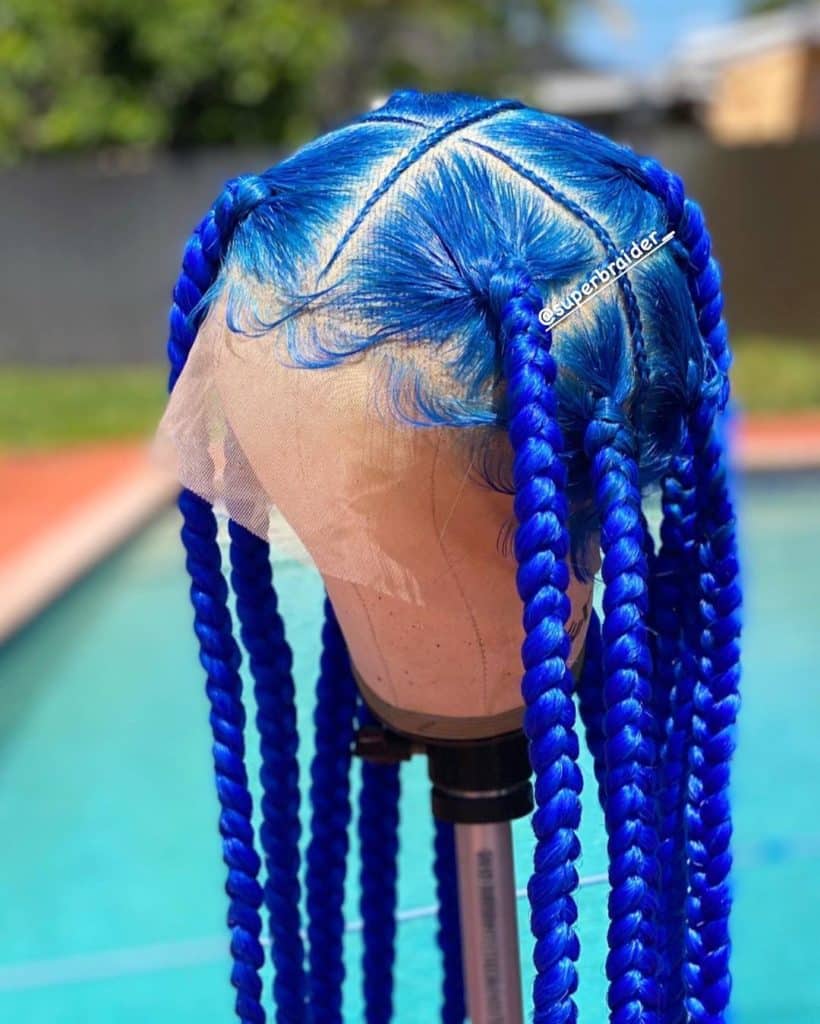 Blue braided wigs are the easiest, fastest and most economical way to wear blue braids! You do not have to sit for several hours to make them, and you can easily take them off and reuse them.
16. Blue Cornrows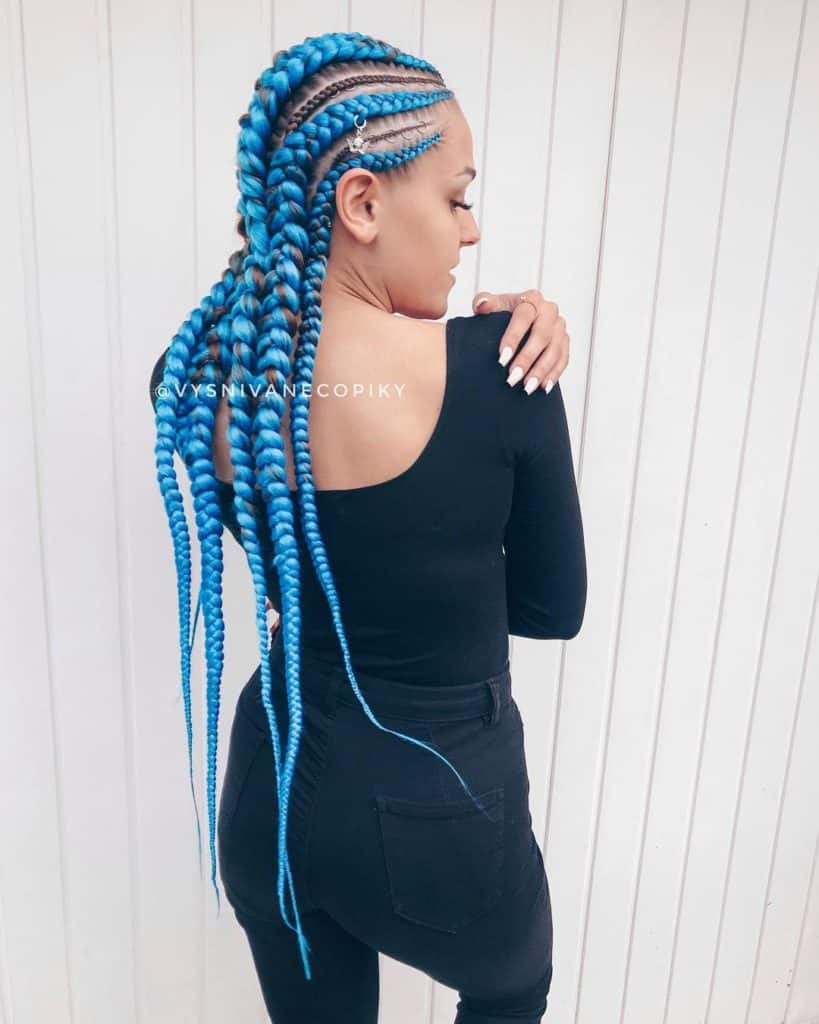 Blue cornrows are made using blue braiding hair. Blue cornrows is a beautiful hairstyle that is easy to achieve, clean, and allows for creativity as there are various ways to make and decorate cornrows.
17. Blue Braids For Kids
Kids can also have their hair braided using blue extensions! Blue, especially cerulean blue and electric blue, is a lively color that gives an energetic vibe that is suitable for kids.
18. Pink and Blue Braids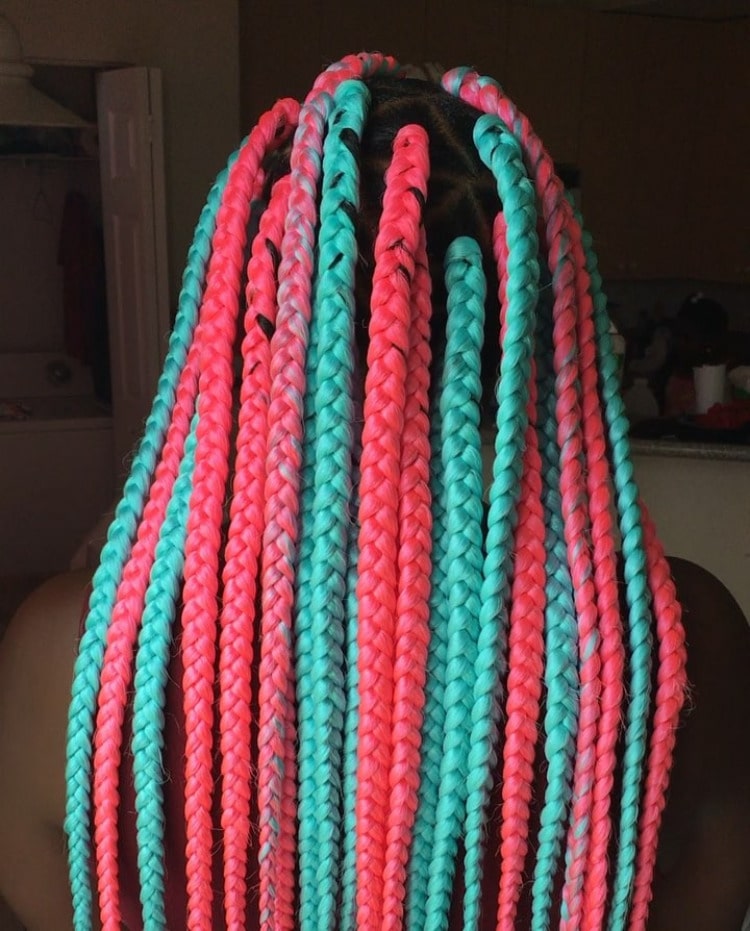 19. Blue Ombré Knotless Braids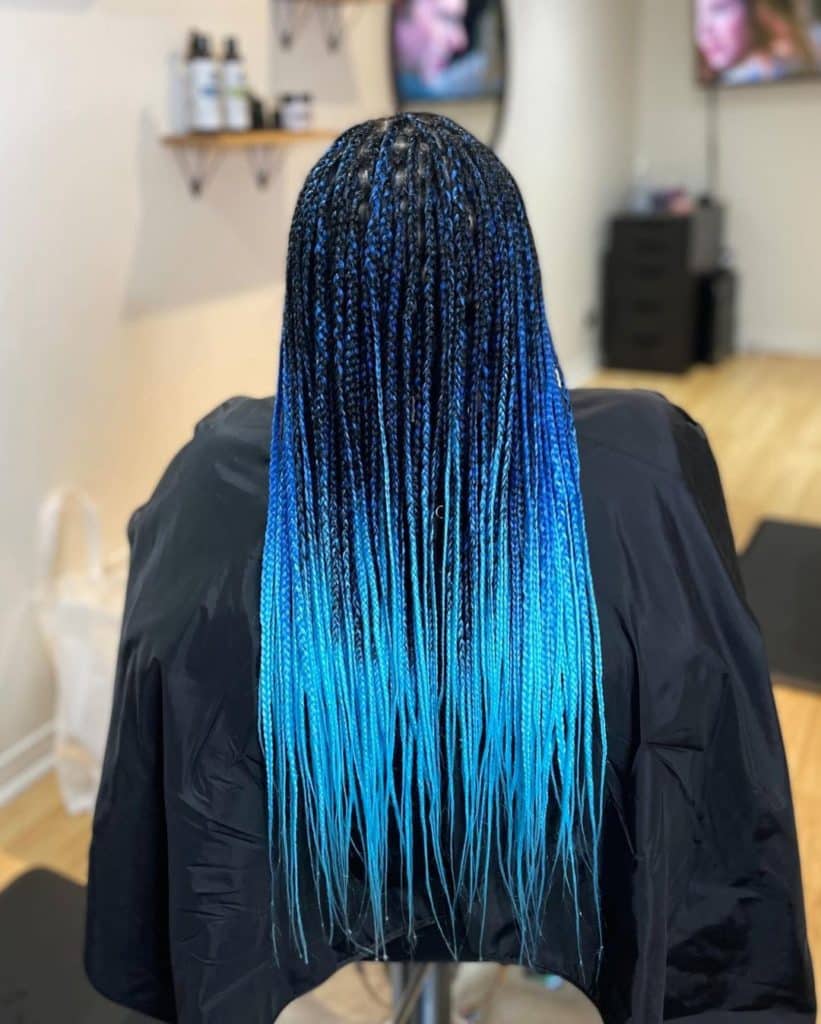 Blue ombré knotless braids are achieved using either ready-made blue ombré extensions or by using different colored extensions (with blue as one or more of the colors) and joining each almost at the end of the other to create a gradient effect. Ombré braids allow for a lot of creative styling options, and when the colors are mixed really well the overall effect is captivating.